from

Richard H

"You are highly recommended in my book!"
from

Carlos R

"Thanks for your help in guiding us through the confusing maze of health insurance."
from

Ashley P

"I'm glad I went through an agent instead of trying to do it on my own. You were a big help."
from

David T

"Thank you for helping me save some money on my insurance. "
from

Mandy S

"Your professionalism was appreciated.You really tried to find the best plan for the price. "
from

VH

"I appreciate your help. So happy to have coverage finally!"
from

SA

"Whew. What a relief to have this done. Thank you so MUCH!"
from

MD

"You are the best! This was so much easier than I expected"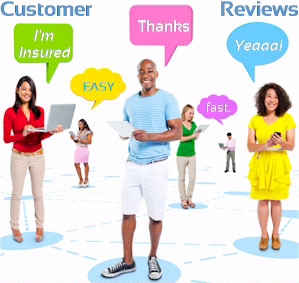 WELCOME TO A NEW WAY OF SHOPPING FOR HEALTH INSURANCE IN ARIZONA
The Old School method of sitting face to face with an Arizona insurance agent and wading through a stack of forms and pamphlets is no more.
Now through a web site like www.arizonaplans.com, you can run a quote, get plan information, zero in on the plan of choice, and apply on line with a minimum of time and effort on your part.
Our web site features an array of plans from some of the strongest carriers in the state, and when you do a quote, the results come up in an easy-to-read grid.
However, if you have questions about a specific plan, or health insurance in general, we are here to help.
You can either call us toll-free, or send us an e-mail, and we'll get back to you with personalized answers to your questions, usually in no more than 24 hours.
Our goal is to find for you the plan with the richest benefits at the best monthly premium price.
There is a bewildering choice of plans offered, even whole families of plans, including PPOs, HSAs and HMOs, so the guidance of a professional insurance broker can save you time and, hopefully, money in the long run.
The insurance landscape is changing rapidly, what with Obamacare, changes in child-only coverage, guaranteed maternity coverage, and a host of other changes, so it is worth your while to work with an independent broker who is contracted by a number of carriers to navigate a complicated and sometimes confusing system.
We have almost 10 years' experience in monitoring the Arizona health insurance field, and we want to put it to good use serving you.
So click on the Quote tab, enter your demographic information (age, gender and zip code), and our quoting engine will call up a whole list of plans to choose from. (As a follow up, we typically send out a selection of plans as well that we think might interest you).
If you have questions, don't hesitate to get back to us.
Typically we won't phone you - not many people want an unsolicited calls while you are doing something important, like eating dinner - but always remember our most important job is answering your questions, so don't hesitate to ask at 866-344-8061.